R

emember When? - Growing Up in the 50s

The fun we had and the trouble we got into - we can laugh at ourselves now that the statute of limitations has run its course. Read what our classmates remember about growing up in Albion. Share your escapades in the watermelon patch and more. We promise not to include your name if you'd rather remain anonymous...






Some of Graham's Confessions...
I remember Buck, Harlo, Hosie, Bobby Holland, Sue Mathews, Safreed, and too many episodes to repeat in mixed-company, particularly since I don't know if the statue of limitations has run its course. There are untold numbers of people in Portland who have heard tell of Buck and his green Hudson, "leapin'-Jesus," or Buck the night he was "doing some good," or when he drove Terry Manley's car in the ditch at "deadman's curve." "Officer, some guy drove me off the road, honest!!" Bob Safreed and I, to this day, tell stories to each other monthly about Buck, Ray Savijak, and things my Mother worried might really be happening! Like beer, and cigarettes.
Graham B
Buck & the Boys - Born to Run
The Vaughns owned a large cattle farm on Erie Road which was surrounded with a beautiful white picket fence. I always loved that place. The property also included Spectacle Lake adjacent to the Albion Conservation Club. I know those acres very well as one night I ran through over 80 acres of corn fields with two Calhoun County deputies chasing me. Well that's another story-another fine fix that Buck got me into.
Bob S
The Red Panties Trophy
(This story is compliments of Nan Campbell Strickler ('61) whose folks owned the Albion Drive-In-Theater)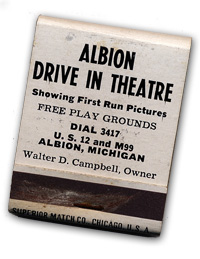 It seems that when my dad was planning on building the Drive-In-Theatre, someone (a friend) said, "My kids will never go there, they are nothing but a passion pit." If you knew Walt, you would know he took that as a challenge, to make the Drive-In anything but a "Passion Pit."
He hired men to patrol the grounds during the movies and they were to follow a "heads above the seats" approach to all customers. One car in particular had already had two warnings to "keep their heads above the seats." Well, on the third time passing the car, no bodies were visible so the attendant rapped on the car window, and told them they would have to leave, gave them their money back and while the occupants were scrambling to get back together the attendant saw something on the dash board and reached in to retrieve it and pulled out the famous "Red Panties." Lots of jokes among the folks after that. Dad did run a tight ship to the best of his ability, but he was aware that numerous viewers entered the theater in the trunks of cars. (More on that later.)